Softer, Stronger, Lasts Longer. Finally, the fusion of nylon and polyethylene.
Throughout the history of the synthetic turf industry, the great quest of manufacturers has been to blend polyethylene (PE) and nylon (PA) into a single fiber. From its earliest inception until the 1990s, nylon was used nearly across the board for its superior resilience and strength. The downside of all-nylon texturized fibers was well-known — it was abrasive. In the 1990s, PE came into vogue and became the industry standard for tall pile face fibers. These PE fibers were much less abrasive, but they came at a cost. These PE fields sacrificed the strength that previous generations of turf fields offered.
AstroTurf now offers the TRIONIC fiber. This patent-pending development is a feat of chemical engineering never before achieved in the history of our industry. TRIONIC combines player friendly PE with ultra-durable nylon to deliver the ultimate fiber. TRIONIC is the new WONDERFIBER!
WHAT MAKES TRIONIC SO DIFFERENT?
While some core systems may use two polyethylene compounds as a cost-saving shortcut, Trionic fibers are a totally different technology. To produce Trionic, polyethylene and nylon molecules are fused into a copolymer and then extruded as a single fiber. This patent-pending process chemically blends polyethylene with nylon, providing the softness of current fibers with the durability, strength, and resilience of nylon.
Fiber Shape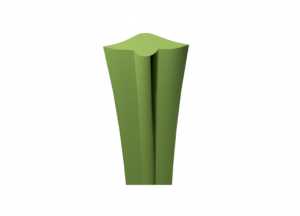 Legend Fiber Shape
Reflect and refract light
Rigidity
No weak points
Entanglement Technology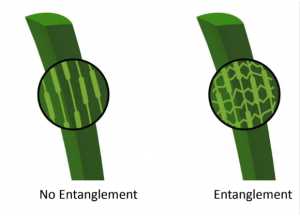 Superior strength
Combats splitting
Strong against UV exposure and use
Our Trionic fiber features entanglement technology for superior strength. In fact, we now use this same technology in all of our PE fibers.
Sharkskin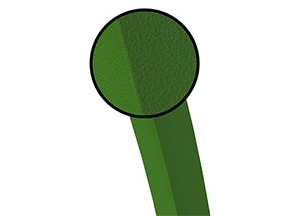 Sharkskin Texture on Microscopic Level
Less abrasive fiber for players
Improves tuft bind
Increases longevity of field
The Difference:
The Trionic Fiber shows similar levels of degradation at 150,000 Lisport Cycles as the High Micron Monofilament fiber shows at 100,000 cycles, so it wears about 50% better than a similar fiber without the nylon reinforcement. While the High Micron monofilament is an excellent choice for an all-PE fiber, it simply doesn't compare to the Trionic with nylon! Polyethylene fibers, regardless of how they are made, or how they may be combined, do not compare to the strength, resilience, and durability of TRIONIC.
Introducing Trionic Plus
AstroTurf's Wonder-Fiber and The Synthetic Turf Council's
2019 Innovation of the Year just got better!
Trionic Plus now offers these amazing technological advancements
The secret is in the compatibilizers. These compounds encase the nylon polymers, which are suspended within the PE to reinforce the fiber. These compatibilizers have an affinity with both PE and the nylon. They are polar on the inside, and non-polar on the outside. In essence, the compatibilizers bridge the gap.
Five years of pre-market research and development, constant testing, and continuous tweaking have enabled us to develop the optimal compatibilizers for long term integrity and durability.
Why is Trionic Plus unlike all others?
In developing the TRIONIC PLUS protocols we combined one layer of polyethylene over a core. Testing proved this to be unreliable and more prone to splitting than current monofilament fibers.
The difference between TRIONIC and TRIONIC PLUS
| FEATURES | TRIONIC | TRIONIC PLUS |
| --- | --- | --- |
| LEGEND FIBER SHAPE | X | X |
| REFLECTS & REFRACTS LIGHT | X | X |
| ENTANGLEMENT TECHNOLOGY | X | X |
| SHARKSKIN TECHNOLOGY | X | X |
| SANITIZED™ | | X |
| DUALCHILL™ | | X |
| STATBLOCK™ | | X |
SANITIZED™
Sanitized silver-based technology helps eliminate odors and provides long-lasting protection. It works by eliminating bacterial odors and preventing the buildup of microbes on AstroTurf face fibers.
DUALCHILL™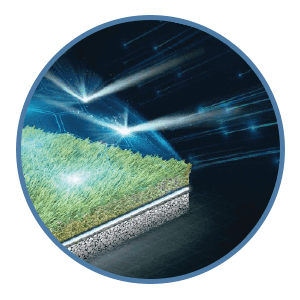 DualChill's ability to act as a thermal shield strengthens the fibers allowing them to be more resilient and durable over long time periods. Test results done on the same fiber package and without DualChill, shows that there is an average of up to 42% improvement in IR reflectivity.
STATBLOCK™
New carbon-based anti-static ingredient molecularly bound into the face fiber that inhibits the buildup of static electricity. Anti-static components are used in the industry, but AstroTurf brings in the first DNA level addition. Testing shows up to a 17x reduction in static levels when StatBlock™ is introduced into the synthetic turf fibers.